They are not religious novels, but my characters live
in the deeply religious culture of the "Bible Belt."
Sow the Wind, Reap the Whirlwind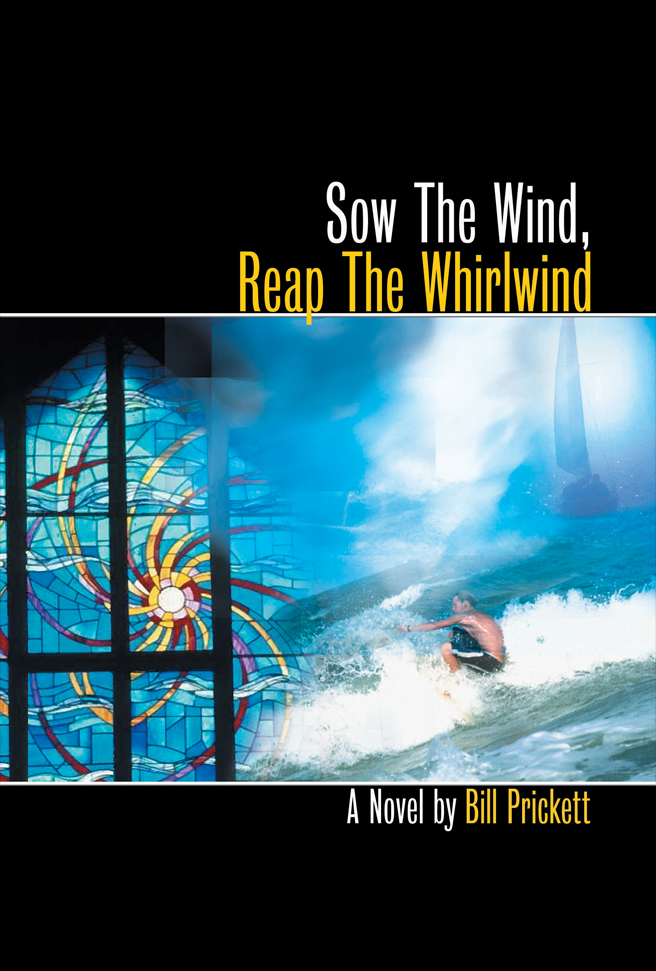 Peter Brossard wants to make a difference in his new job. He also hopes the cross-country move will give him a renewed sense of purpose and peace from his own troubled past.
What he finds is blatant bigotry, internal power struggles, lack of social consciousness, ongoing conflict with his superiors, amorous advances from his beautiful next-door neighbor, an unpopular friendship, illegal drug use, child abuse and a bounty of sexual secrets.
It's certainly not what he expected as the youth minister in a Southern Baptist Church.
Like any new job, his first weeks are spent acclimating to the new surroundings and meeting the people who encircle this new position: the no-nonsense Senior Pastor who holds much different views of ministry than his own, his beautiful neighbor who envisions more than ministry with him and his ever-efficient secretary who stirs long-repressed feelings in him. Then there's the array of teenagers who comprise the youth group, with more problems than he expected, but with more potential than he could imagine. And he'll learn about the incredible bureaucracy imbedded in the church, and the amount of energy exerted to maintain a stable status
But he's also impacted by people he meets who are working to change their world for the better.
In the first weeks at his new job, Peter meets the director of an inner city mission actively involved in helping with the physical and economic needs of the predominately poor section of the city. Peter is so impressed that he volunteers to help out in his spare time. And he meets a black, ex-junkie who also works at the mission. Their friendship is unpopular with some in his church.
Working at the inner city mission causes Peter to question his own ministry and motivation. He determines there's something missing in his own life–what he comes to call the Wind–a clear awareness of divine purpose in life and joy in fulfilling that purpose. The search for this absent element drives Peter, and in the end, it's the force that sustains him in the face of devastating tragedy, doubt and grief. It provides him with the courage to confront his past and make the decisions required to transform his future.
A Time to Every Purpose
Bailey Stewart recently lost the love of his life.
He has attended too many funerals of friend who died of AIDS. His own future is uncertain.
In the depths of grief and despair, he decides to end his life.
But on the night he intends to carry out this fatal plan, an unconventional, flamboyant angel appears in his bedroom, with an offer to help. He angrily rejects her proposal, and proclaims that everything would be fine if AIDS had never existed.
Unknown to him, he will get that wish. However, first he must travel with three Guides who show him various eras in gay and lesbian history in order to provide perspective on his own life and times, and hopefully prevent his deadly decision.
In the end, Bailey finds a world that was never impacted by AIDS. Unfortunately, it's not the "dream come true" existence he imagined. And he's faced with the another grave decision: live where he's not infected, or return to his own life…where he might die.
The choice is not as clear-cut as it might seem.
The Mind Set on the Flesh
Barnabas "Thumper" Rivers is a gregarious party boy trying to break free of his strict religious upbringing. His father is a nationally-known hellfire-and-brimstone preacher with a relentless crusade against those living a "sinful lifestyle" (like his son).
Thumper probably knows more Scripture than most Bible teachers and likes to quote verses at the most unusual times and in the most unlikely places. He also has a unique ability to discern those who are hiding secret desires behind a "stained-glass" facade.
He doesn't believe in love, but is a devoted disciple of lust—an ambassador to the pleasures of the flesh and a walking testimony to the flesh out of control. His quick wit, outgoing personality and good looks score him ample attention and plenty of one-night stands.
After being brutally beaten by a mentally unstable man, Thumper is left with little memory of his past and a desperate desire to remember his forgotten life and his friends. He's unaware that his parents and his doctor are determined to prevent that from happening.
The aftermath and repercussions of Thumper's tragic incident also ripple through a circle of people around him, forcing them to face their own reality.
The Mind Set on the Flesh is a story of deception and manipulation in the name of religion.
But what happens when the truth comes to light?
Still grieving the recent loss of his wife, Nate Truett returns to work, ready to resume the familiar routine on staff at a conservative church in Birmingham, Alabama.
A chance encounter with openly gay Trey Stravos forces to the surface desires Nate has always successfully suppressed. As their friendship grows, Trey disrupts Nate's self-imposed constraints, and introduces him to once-forbidden pleasures.
There's a connection with Trey that Nate has never known, and an intimacy he didn't expect. But what they're doing goes against everything Nate's been taught to believe.
Not to mention, if anyone found out, it would ruin his career.
Nate panics!
He begins attending a support group that promises it's possible for him to change his sexual orientation.
The decision to get involved with this ministry does bring change, but not what Nate anticipated.
It also sets in motion events that thrust him into the media spotlight as a reluctant national spokesperson for successful transformation.
All while he struggles with unanswered questions and unresolved doubts.
To reconcile his internal conflict, Nate will have to question the faith he's always embraced and confront the feelings he's always hidden.
Click HERE to read the first two chapters.